Please visit the Hudson River Museum, 511 Warburton Avenue Yonkers, NY 10701,
for Jack Stuppins' homage to the Hudson River School.
The exhibit, entitled "The Beginning of my World" runs from July 2nd to September 12th.
Jack's paintings are found in over 21 Mueums across the country.
There are over 144 paintings displayed in this website. See the menu above or click here.
To see a video of one of his most recent shows, click here: Three Friends, Jack Stuppin Paintings, Sculptors: Robert Hudson and Richard Shaw
Jack Stuppin is represented by ACA Galleries
---
Catskill Moon is truly a masterpiece. It really deserves to be in a museum. —Susan Landauer, art historian and author of several books on California art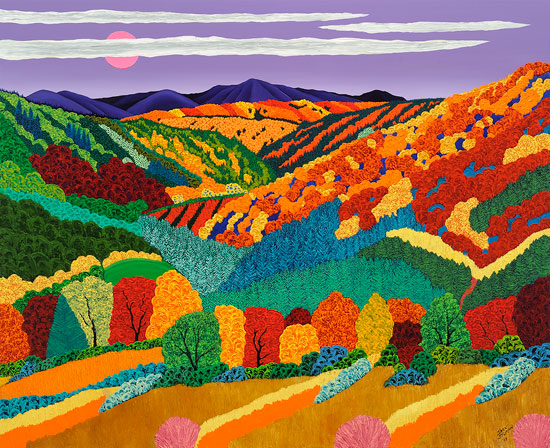 Catskill Moon (in a private collection), 2013. Oil on canvas, 52.0625 x 64.1875 inches.
The Hudson Valley landscape in Catskill Moon, with its seemingly innumerable facets making beautiful symphonic music together . . . is the prelapsarian paradise of tranquility Stuppin has been longing for after years of living on the edge in California. If ripeness is all, then Stuppin's art has ripened into innocence. His is a child's vision of nature, reminding us of . . . Baudelaire's remark that "genius is childhood recovered at will." The sun may have set, but the moon is brighter than ever.
—Donald Kuspit, Distinguished Professor Emeritus of Art History and Philosophy at the State University of New York at Stony Brook. He is a contributing editor at Artforum International Magazine. He has written more than twenty books about art history and criticism.
---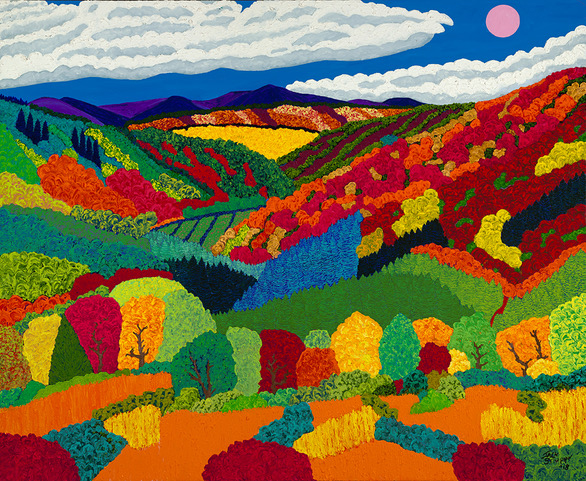 Catskill Pink Moon - 2018
---